Chemical Descaling Budget Of Scales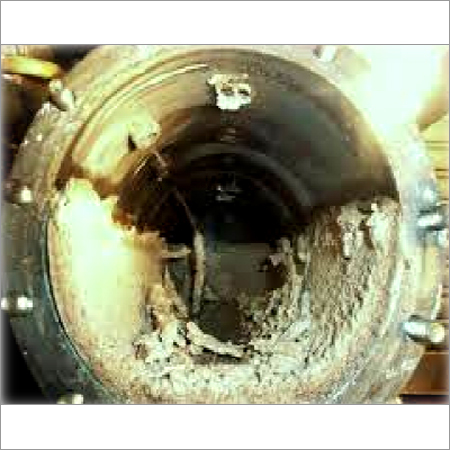 Chemical Descaling Budget Of Scales
Product Code : SIAT-11215
Saves 45% - 60% on Chemical Descaling Budget of Scales, this is an additive for normal HCL and dilute H2SO4 for quicker removal of scales from boiler, condensers, heat exchanges and allied pipelines etc.
Saves base mental of pipelines and boiler by inhibiting their reaction with acid throughout descaling.

Easier to use, and safe to handle.

SCALISIN The removal chemical

Water is generally responsive for the production of accumulations on the water-side heating surfaces of boilers and since these accumulations hold slow thermal-conductivity they lead to overheating of tubes there by decreasing the metal strength.
The constant cleaning of scales with the use of current descalent available in the market is an expensive affair. To overcome the cost of cleaning our company has brought forward "SCALISIN" which is effective and as well as affordable and convenient to use.

Procedure:
This kind of chemical compound is utilized with commercial grade sulpheuric or hydrochloric acid in the proportion 1:10v/v.
The descalent therefore formulated is diluted into boiler as 15 per cent of the water holding capacity of boiler up to level of scales
Keep this chemical in boiler for at least 24 per 30 hours for making loose the scales.
Then rotate the solutions for 8 per 10 hours with the temps maintained between 50 oC to 55 oC.
After rotation see that the tubes drum etc. are cleaned, If any layer of scales missed behind rotate further for another a few hours with latest solution as 10%, leaving the old one.
Blow-Down: Blow down the chemical compound and wash the boiler with 1 1/2% alkali agent or 11/2% "SKALBORT-811" to contain acidic effect. It is however the best to brush the drums & tubes so as to ensure ideal cleaned as well as shining surfaces.
Descaling by circulation for boiler and varied other machines:

Final flow diagram of machinery is exemplified other parts not shown in diagram.
Separate vessel is needed for the chemical beside real feed tank.
Detach circulation pump polypropylenes is recommended to prevent any damage to the genuine feed water pump. Ratio is 1:10:63 (SCALISIN:HCL: Water)
This ratio creates cleaning prevented descalent of 3% to 4% acid. The most ideal site made acid descalent for Mild Steel or Copper metal cleaning.
Note:

Minimum 10 to 12 hours needed for circulations.
Frequent supervision required for effective descaling.
Circulations period & Immersion period can be adjusted according to the condition or requirement of scales.
Thickness of Boiler Deposit (mm) Fuel Wasted (%):

| | |
| --- | --- |
| 0.85 mm | 7% |
| 1.0 mm | 9% |
| 1.3 mm | 11% |
| 1.6 mm | 13% |
| 2.3 mm | 15% |
| 2.8 mm | 16% |
SAR Incorporation
A-403, Mahalaxmi Apartment, Opp. Kashi Nagar,Navghar Road, Bhayandar (East), Mira Bhayandar - 401105, Maharashtra, India
Phone :+917259397663
Mr. Rahul Anand
Mobile :+917259397663